yaTimer
>
On-Line Help
>
Run from Portable Drives
Run from - and Synchronize with - Portable Drives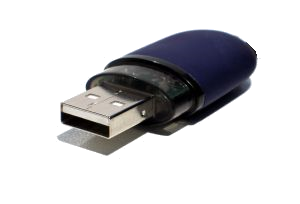 Take yaTimer with you - you can copy yaTimer and all your information to a USB thumb drive (or any other portable device – from memory cards to portable hard drives), use it to keep tracking time on someone else's computer, to move your information between computers or as a backup – and when you return to your computer synchronize it back.
All of the application's features work when running from a portable drive except for auto-update, the portable copy will be updated when you synchronize it.
Copy to a Portable Drive
To run from a portable drive:
Run yaTimer.
Open the main menu.
Click the Options button (on the bottom of the main menu).
In the options window scroll all the way down and click the Copy to Portable Drive button.
Select a folder on the portable drive, I recommend you create a new folder and select it.
Click Ok and wait while yaTimer is being copied.
After getting a message that yaTimer was copied successfully you can cancel the options dialog and exit yaTimer.
After copying yaTimer to a portable drive both copies has the same data, but this data is not shared between copies – when you run yaTimer from the start menu you get the data stored on your hard drive and when you run yaTimer from the portable drive you get the data from the portable drive.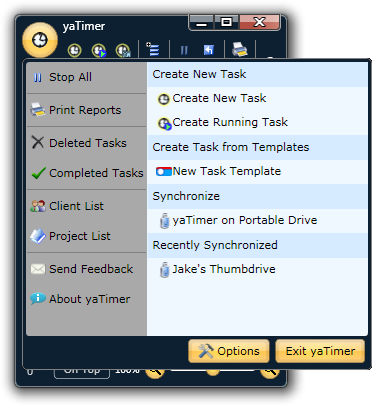 Synchronize with a Portable Drive
Synchronizing you portable copy with your computer - or with someone else's copy of yaTimer - is easy, just select the name of your portable copy from the Recently Synchronized section of the main menu (below the task template list) or, if you haven't synchronized with this copy before select yaTimer on Portable Drive from the Synchronize section.
If you don't see the Synchronize section of the menu, click the Options button on the bottom of the menu and check the Enable Synchronization with Portable Copy box.