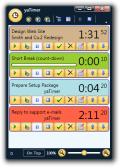 Easy to use and efficient
All your tasks, color-coded, in the order you define or arranged in groups by client or project with timing information always visible.

Know how you spend your time
Do you know if one client or project uses an disproportional amount of time? what percent of your time is billable?

Print beautiful timesheets
yaTimer can print a wide variety of timesheets you can use to keep track of your time or send to your clients.