yaTimer
>
On-Line Help
>
Customize Reports
Customize Reports
We know reports are important, the reports you send to your clients represent you, a nice looking report makes you look like a professional - that is why yaTimer has comprehensive report customization features.
Here are some examples of yaTimer's report customization options: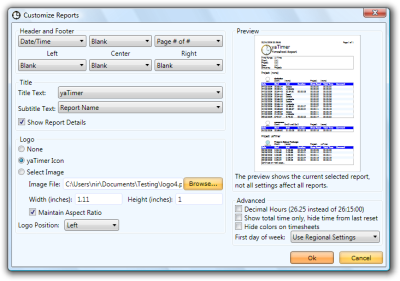 You can change all the text in the page header and footer as well as the report's title and subtitle.
You can add your own logo image or have no logo at all.
You can change the logo position relative to the title and subtitle.
You can show or hide the box with the report filtering details.
You can hide "time since last reset" and show only total times.
You can hide the colors you assigned to your tasks.
You can change the time format to decimal time, so one and a half hours turn from 1:30:00 to 1.5
And you can change the first day of week if Windows' settings for you region is incorrect.
Need more? we add more report customization options every version, if you'd like to customize your reports in other ways please contact us and we'll be happy to help.